Mould Laser Welding Machine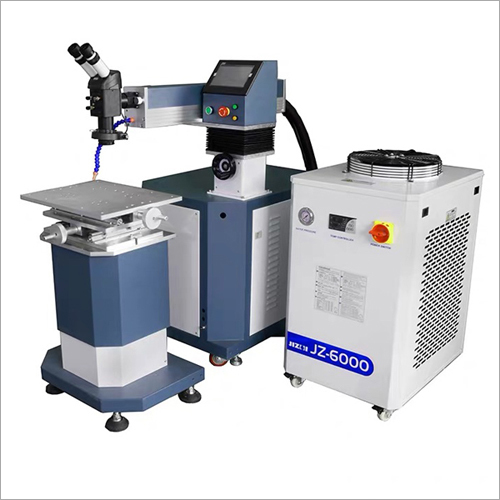 Mould Laser Welding Machine
Product Description
Since the time of our commencement, we have been offering the number one brand of Mould Laser Welding Machine for which thousands of customers trust us. Our engineers make use of the latest technology and equipment to create high performing range of Mould Laser Welding Machine. All over the world, we have been ruling the markets because of our quality-focused approach. Our aim is to deliver improved range as well as cater to the needs of customers with perfection.

Specification :
| | |
| --- | --- |
| Dimension | 1540*1350*1340mm |
| Gross weight | 320kg |
200W YAG Laser welders for mould repairing
mould welding machine using Nd3 +: YAG solid-state laser, after beam expander, reflection (or optical fiber transmission) , the pulsed laser focused on object to be welded, work pieces can hand-held or fixture with clamps , Then the laser trigger foot switch effect on the work piece, moreover, it also can be an external control system for automatic welding. Frequency, pulse width, table speed, the moving direction of the pulse laser welding controlled through computer, the power of the laser frequency, pulse width can be adjusted to different settings to control the laser pulse energy.
1. Industry
Mold repair, automotive, motorcycle, aerospace, aviation, computer, medical device and 3C consumer product industries.
2. Precision and quality
Repair slots, pockets, radius contours and angles;
Repair polished, textured and engraved surfaces;
Repair thin walls with little or no warping;
Repair parting line edges and heat sensitive areas.
Open systems for welding of the largest and smallest workpieces, no limit.
3. Material
Die mould and tooling, plastic injection mold, complex electronic components, high-precision industrial assemblies, pressure-sensitive hermetic laser sealing, alloys include tool steel, stainless steel, aluminum, copper, titanium and powdered metals.
Technical Specification :
Model

YM-MW-200W

YM-MW-300W

YM-MW-400W

Max laser power

200W

300W

400W

Laser type

ND:YAG

Laser wavelength

1064nm

Laser spot adjust range

0.2mm-3.0mm (optional)

Spot size

0.2mm-3.0mm

Pulse width

0.1ms-25ms

Welding depth

2mm

3mm

4mm

Pulse frequency

100HZ




Machine power

6KW

10KW

12KW

Control system

MCU

position

Microscope, CCD, Red light

Chiller dimension

560*800*400mm

Power supply

220V10%/ 380V10% 50HZ 60A

Overall machine dimension

1170*1250*560mm

Worktable loading

150kg
Contact Us
1313-63, Overseas Friendship Building, No. 12, Yingchun Road, Jiabei Community, Nanhu Street, Luohu District, INDIA OFFICE Tatvam Villas, Dhani, Sector 48, Gurugram, Haryana,India Shenzhen Guangdong China 86--13534276935
Phone :+8613534276935